---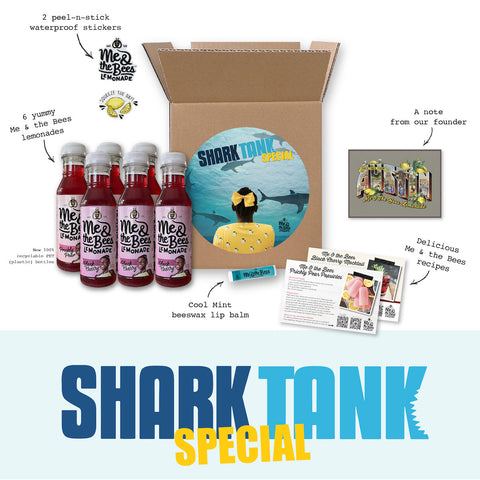 Shark Tank Special Reunion Box
---
What's in the Reunion Box?  *While Supplies Last*
SIX (12OZ) BOTTLES OF ME & THE BEES LEMONADE
Me & the Bees Lemonade - Black Cherry: The robust flavor of black cherries pairs perfectly with lemons, providing a refreshing combination for a new lemonade flavor. It's the perfect combination of tart and slightly sweet.
Me & the Bees Lemonade - Prickly Pear: A cheerful and brilliant blend of prickly pear cactus fruit and Me & the Bees Lemonade will have your taste buds humming the aromas of raspberry and watermelon. This may be the yummiest combination since...well since forever.
Three bottles of each flavor are included with our new 100% recyclable PET (plastic) bottles. We're not able to mix & match flavors at this time.
ME & THE BEES CUSTOM STICKERS:
Show off your buzz! Decorate and personalize laptops, water bottles, windows, and more with these removable, kiss-cut vinyl stickers. They are super durable and water-resistant. Each pack includes 1 Me & the Bees Logo sticker – 2.75 x 2.75 – and 1 Squeeze the Day sticker – 2.25 x 1.75.
HINT OF COOL MINT LIP BALM:
This vanilla mint flavor is reminiscent of cold, winter days cozied up with the smell of baked goods and the coolness of mint. With a touch of vanilla and peppermint essential oils, this lip balm has a taste you'll love. (One, .15 ounce lip balm).
FREE BOTTLE OF LEMONADE COUPON:
One manufacturer coupon for a free bottle of Me & the Bees lemonade at a retailer near you. Click here to find the nearest location that sells our delicious, honey-sweetened lemonade if any of our five flavors.
BEAUTIFULLY DESIGNED 5.5 X 8.5 RECIPE CARDS:
Two creative and yummy Me & the Bees Lemonade recipes. Easy recipes include step-by-step instructions to make a thirst quenching Me & the Bees Black Cherry Mocktail and zesty Me & the Bees Prickly Pear Popsicles.
GREETINGS FROM AUSTIN POSTCARD:
Sweet note from our founder/CEO, Mikaila Ulmer.
Support Family Businesses!
Being a veteran teacher of 2+ decades, I firmly believe in supporting children in finding their path in life. What a wonderful family business! I bought the Shark Tank package, plus the book & bookbag. The canvas bag is the best I've ever seen!!! The BLUEBERRY honey was out of this world and we enjoyed the lemonade as well!
Love the Bees Lemonade and packaging
I recently had to pleasure of trying Bees lemonade and I love the new packaging as well as the lemonade itself. I must say that it was more delightful than the previous order.
Thank you
Very Satisfies
Thank you for great service and great product
Inspirational
I was thoroughly impressed with the package. My granddaughter loved the lemonade. She took a couple of bottles with her to her track meet.
Nice Lemonade Gift Package
Love the Prickly Pear Lemonade, lip balm, and recipe cards. So excited for the brand and products. Continued success to Me & Bees Lemonade.
I've also become an advocate for the bees.
Excellent!!!
I will always enjoy supporting our young entrepreneur here with a great tasting drink.
Always on my list
Whenever I make a trip to Target BOTTLES of Me & The Bees 🐝 are om my list to grab! Great location at the front of my local store. I love ❤️ it. Thank you Makala for your product and environmental consciousnesd.
---
More from this collection