---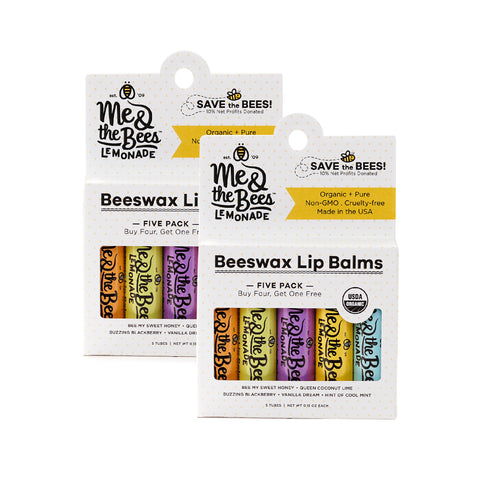 Beeswax Lip Balm (2 Packs)
---
A Sweet Deal
This is for two packs! 10 Organic Beeswax Lip Balms for the price of 8!
Enjoy a different balm every day of the week.
BEE MY SWEET HONEY 
The original love: honey. This lip balm makes you feel one with the bees we save. With the smell and taste of honey and vanilla, this lip balm will have you falling in love. .15 ounces of bee saving balm. 
QUEEN COCONUT LIME
A summer time smell that will take you back to the beach.  With a touch of Organic Coconut, Organic Lime essential oil, you'll be dreaming of the sunset waves in no time. .15 ounces of summertime sun.
BUZZING BLACKBERRY 
Our luscious blackberry balm will bring a sweet taste to your lips that you won't soon forget. This luscious, beeswax lip balm with a hint of blackberry will make your lips totally smoochable! .15 ounces of berry-licious goodness
VANILLA DREAM
For softer lips, this beeswax lip balm made will coat your lips with a soft, velvety salve. With a touch of vanilla and lemon essential oil, this lip balm will make you melt. .15 ounces of delight.
HINT OF COOL MINT
This vanilla mint flavor is reminiscent of cold, winter days cozied up with the smell of baked goods and the coolness of mint. With a touch of vanilla and peppermint essential oils, this lip balm has a taste you'll love. .15 ounces of love for your lips.


---
Ingredients
Organic Safflower Oil, Organic Beeswax, Organic Honey & Organic Vanilla Flavoring, Moon Valley Organic Lemon Balm, Moon Valley Organic Calendula, Moon Valley Organic Comfrey, Organic Licorice root and Natural Vitamin E made from Sunflowers, Organic Stevia
The BEST lip balm I have ever used!
I've used many lip balm, lip care sticks and other products that were supposed to take care and hydrate your lips and so far this one beats them all. It keeps my lips hydrated and I only have to reapply it twice maybe three times.I definitely need more and looking forward to the restock!
I love these!
I'm a big fan of these unique lip balms. I keep them scattered around my house.
tasty
it tastes great I would eat again but my poop was green and diarrhea but I enjoyed it.
Best lip balm
Goes on very smooth, and the taste is wonderful without being overwhelming.
So great!
I love everything about these! The smell, the smooth not sticky feel and especially the company that made them!
Fabulous Lip Balm
Your lip balm is a favorite for our entire family!
My new favorite!
I have been using This lip balm all year. I just ordered 2 more packs. In Colorado, lip balm is not optional, it's required. This lip balm doesn't put you into a cycle of needing more and more, it's just perfect. Lovely scents too. Support small, young entrepreneurs!
Fantastic lip balm!
Great stuff! Very smooth, and True to its description/flavor—but not too strong or perfume-like. I go through a lot of lip balm, and this brand is the best I've tried. :o)
Fantastic! My favorite balm.
Love the different flavors and quality ingredients.
bee
if only Mr beast was here to help he is a good guy